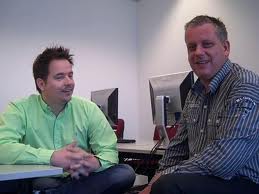 I had an interview earlier today with
Raymon Epping
about his jump to
Nutanix
- He will be the first SE in the Netherlands and is very exited about his new job.
> Hi Raymon, when you're were working at VMware, you started out as a senior consultant and later switched to Technical Account Management. What's the big difference between those roles?
PSO consulting is a pure technical position, hence the number of VCDX's coming out of VMware PSO, where Technical Account Management is more focussed on account management and customer relationships. My primary focus was to guide our enterprise customers on their journey to the cloud by introducing aspects like automation, orchestration, self-services, chargeback, configuration management and virtual infrastructure management. On top of this the TAM is the logical bridge between the customer and VMware for everything related to support, product features, engineering and account management.
> Once you were working as a Technical Account Manager, you've earned a reward for your outstanding work. Isn't it hard to quit a role that really fits you?
I got this award based on two of the enterprise customers that I was responsible for where we successfully introduced our cloud vision. Our vision, as you know, is based on increasing agility by introducing simplification through automation and orchestration and that was the link for me with Nutanix. At Nutanix we introduce a radically simple solution compared to traditional data centers that easily scales and at the same time will reduce cost and complexity by introducing a "pay as you grow" model.
> Your new job at Nutanix involves a lot of pioneering since you're the first SE in the Netherlands. Do you enjoy exploring new challenges and territories?
As you know I'm always in for a challenge. When I joined VMware almost 4 years ago I came from Oracle with an Identity and Access management background, within 6 months I was VCAP-DCA + VCAP-DCD certified. So jumping into something completely different is not new to me. That said, I strongly believe in the value that we as Nutanix can bring to the market by offering rapid deployment, highly scalable architecture, enterprise-class hyper converged storage and compute capabilities and a modular scale-out approach.
> If I want to capture the philosophy behind Nutanix in one sentence and say "As many virtual machine per cubic centimetre as possible" am I on the right track?
No, unfortunately not. Nutanix provides a datacenter infrastructure which is indeed 2 to 5 times smaller in space and power but Nutanix is not only about the number of VM's per host / node / block. It's much more than that. What you could say is the following:
Nutanix offers a linear infinite scale-out architecture that enables a cost-effective and seamless growth path for organizations that need to scale their compute and storage infrastructure.
The Nutanix virtual computing platform converges all compute and storage resources into a single, integrated system. Multiple sever nodes and Nutanix blocks can be seamlessly clustered to achieve massive scale. Each Nutanix solution is delivered in easy-to-deploy 2U appliances, with virtualization software pre-installed and ready to run out of the box.
> What's, in your experience, the real wow factor when people are starting out with the solutions Nutanix is offering?
The real wow factor is a combination of how simple it is to set it up plus the ease of maintenance and at the same time delivering a next generation infrastructure for your virtual landscape. A Nutanix cluster can be setup within 30 minutes, we offer 1 intuitive user interface for management and we deliver Google-like datacenter capabilities. For more information see our video Nutanix in 2 minutes: http://www.youtube.com/watch?v=xORDdqOKOSA
> Last but not least, I've heard you're throwing a party in a cinema and everyone is invited, can you tell me more about it.

6th of june we are throwing a big party to introduce Nutanix to the Netherlands and everyone is invited. We are hosting the premiere of Star Trek into darkness. Star Trek is well known for it's influence on the world outside of science fiction, it was an inspiration for several technological inventions such as the cell phone. In other words it connected the future with today, the same as we are now doing at Nutanix.
Registration for this event is open: http://go.nutanix.com/Movie_Register.html and we are looking forward to seeing you there!