Next week my new Cisco Catalyst 2960G-8TC-L switch will arrive so I went to the store to buy some additional Intel PRO/1000 adapters to get fully prepped. While I was waiting in queue at Informatique an article written by Chad Sakac popped into my mind, in his article he predicted that 2010 will be the year of Solid State Storage. I noticed a real nice offer from Intel; the X25-M Postville SSD 80GB for only 200€ and tough what te heck, let's buy one.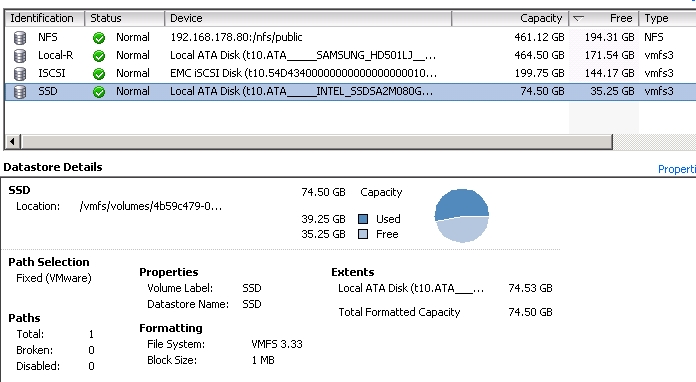 Model Name Intel X25-M Mainstream SATA Solid-State Drive
Capacity 80GB
NAND Flash Components Intel® Multi-Level Cell (MLC) NAND Flash Memory
Bandwidth Up to 250MB/s Read Speeds - Up to 70MB/s Write Speeds
Read Latency 85 microseconds
Interface SATA 1.5 Gb/s and 3.0 Gb/s
All the NICS and the SSD drive are build into my two white boxes so I fired up HD Tune Pro in a virtual machine with a 8 GB test disk hosted on the newly created SSD-VMFS. The HD Tune Pro has a real nice feature which enables you to export screenshots of the measurements.
So, here is a quick benchmark comparison between SATA (10 GB) and SSD (8 GB) storage.