The SEsparse virtual disk format was introduced in VMware vSphere® 5.1 for VMware® Horizon View environments where reclamation of storage space is critical because of the large number of tenants sharing storage. In vSphere 5.5, for VMDKs greater than 2TB in size, SEsparse becomes the default scheme for virtual disk snapshots.

Various enhancements were made to SEsparse technology in the vSphere 5.5 release, which makes SEsparse perform mostly on par or better than VMFSsparse formats. SEsparse also has a significant advantage over VMFSsparse virtual disk formats by being space efficient. We conducted a series of performance experiments, including a comprehensive set of Iometer workloads, real data-intensive applications like Hadoop MapReduce applications, and VDI workloads.

Overall, the performance of SEsparse is about 2x better than the VMFSsparse format for a random write workload and slightly better or on par with the VMFSsparse format for other workloads. One of the very few cases where VMFSsparse outperforms SEsparse is during sequential writes of very large block sizes like 512KB. The data generation part of the Hadoop TeraSort application issues large (512KB) sequential writes, so we have seen decreased performance in SEsparse for those cases. Improving the sequential write performance with large I/Os is being investigated.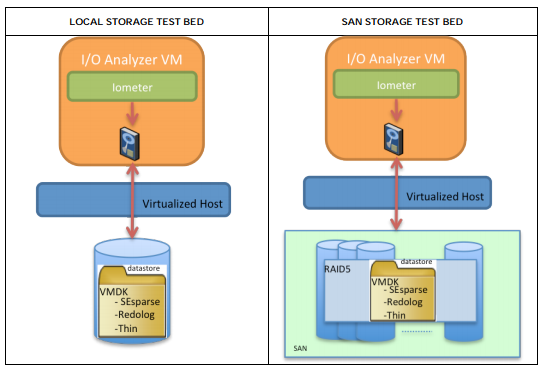 For VDI environments, however, using the SEsparse virtual disk format increases the space efficiency of VDI desktops over time with no impact on user latencies. The space reclamation (wipe-shrink) operation in SEsparse has a 10% CPU overhead and should be scheduled during low server load. After the wipe-shrink operation completes, we observe slight improvements in user latency and CPU utilization. Overall, SEsparse is the recommended disk format for VDI workloads.
Download this technical white paper: SEsparse in VMware vSphere 5.5