Enhanced vMotion allows you to combine a vMotion and Storage vMotion into a single operation. Effectivly enabling a "shared nothing" vMotion. Use cases can be found in large datacenters and SMB markets; Cross host and datastore vMotion allows VM migration between clusters in a large datacenters, which may not have a common set of datastores between them.
Cross host and datastore vMotion allows simpler setup and use of local disk, by removing the shared storage requirement, it lowers the barrier to entry for use of non-disruptive migrations and will be very useful for the SMB market.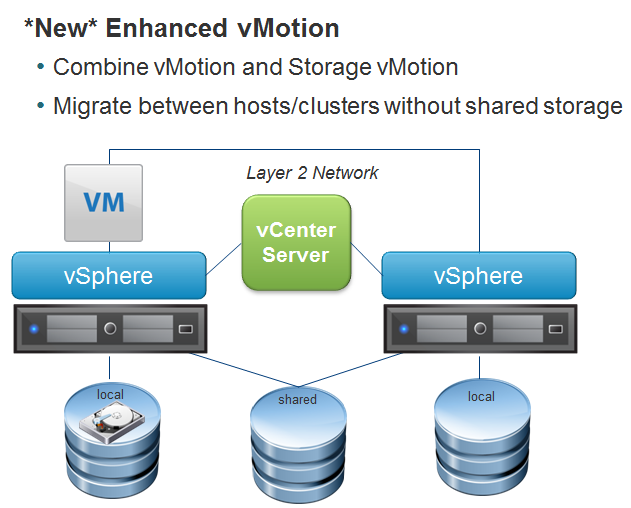 Enhanced vMotion will count against the concurrent limitations of both vMotion and Storage vMotion. Today, one cannot perform more than 2 concurrent Storage vMotions per host. As a result, no more than 2 concurrent enhanced vMotions will be allowed.
Since these count against Storage vMotion limits, running 2 concurrent Enhanced vMotions will cause all attempted SvMotions to remain queued until one of the active Enhanced vMotions complete. Similarly, Enhanced vMotions also count against vMotion limits, at most 8 concurrent vMotions per host. If there are 2 active Enhanced vMotions, then, we will only allow at most 6 concurrent vMotions at the same time.
If there are 8 active vMotions, any new Enhanced vMotion attempts will be queued until one of the active vMotions complete. Enhanced vMotion will behave exactly the same as vMotion, with respect to support multi-NICs. Likewise, it will support either shared swap or unshared swap migrations just as vMotion does, with VM home directory movement becoming an unshared swap migration.
Enhanced vMotions are more expensive and thus that must be factored in when making migration decisions. Neither DRS and SDRS leverage Enhanced vMotion technology in 5.1. Even though neither DRS nor SDRS will recommend Enhanced vMotion migrations, users will still be able to perform manual Enhanced vMotions within or across SDRS or DRS clusters.