Eric Sloof has been working in the information technology for more than 25 years. He shows comprehensive knowledge and expertise in virtualized environments, storage and networking.
He is an accredited active VMware Certified Instructor. Besides teaching and consulting, Eric is a committed active member of the VMware community and was rewarded the vExpert title.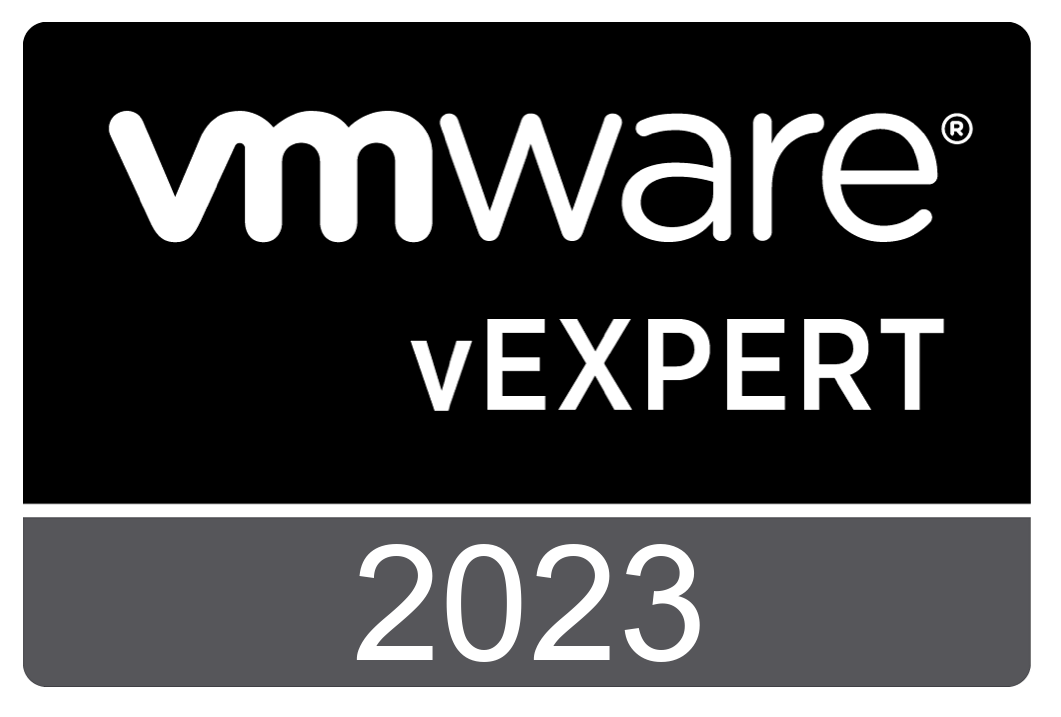 His website NTPRO.NL was elected as one of the best VMware blogs year after year. Eric has delivered multiple well received user group and VMworld sessions, and is a former VMworld TV presenter.
VMware certified instructor

As a VMware certified instructor, I can help organizations maximize the benefits of the VMware virtualization products. Their IT professionals will benefit from attending in-depth, hands-on courses. These courses include the highly popular 'vSphere Install & Configure and Manage', which also prepares IT professionals for VMware VCP, VCAP and VCDX certification, along with the following list of training courses for deployment experts and systems integrators.
VMware vRealize Operations for Operators [V8.6]
VMware Horizon 7: Install, Configure, Manage plus App Volumes FT [V7.10]
VMware Horizon 8: Deploy and Manage plus App Volumes Fast Track
VMware Horizon: Deploy and Manage [V8.8]
VMware Aria Suite Lifecycle: Install, Configure, Manage [V8.10]
VMware Aria Operations for Networks: Install, Configure, Manage [V6.8]
VMWare App Volumes and Dynamic Environment Manager: Configure and Manage
VMware Site Recovery Manager: Install, Configure, Manage [V8.6]
VMware Cloud Foundation: Deploy, Configure, Manage [V5.0]
VMware vSphere: Design [V8]
VMware vSphere: Troubleshooting [V8]
VMware NSX for Intrinsic Security [V4.x]
VMware Telco Cloud Automation: Install, Configure, Manage [V2.2]
VMware NSX: Design [V4.x]
VMware Cloud Director: Install, Configure, Manage [V10.4]
VMware NSX: Troubleshooting and Operations [V4.X]
VMware Aria Automation: Install, Configure, Manage [v8.10]
VMware vSphere: Fast Track [V8]
VMware vSphere: What's New [V8]
VMware NSX: Install, Configure, Manage [V4.0]
VMware vSAN: Install, Configure, Manage [V8]
VMware vSphere: Operate, Scale and Secure [V8]
VMware vSphere: Install, Configure, Manage [V8]
VMware vRealize Network Insight: Install, Configure, Manage [V6.1]
Troubleshooting VMware vRealize Operations [V8.x]
VMware vRealize Automation SaltStack SecOps: Deploy and Manage [V8.6]
VMware NSX-T Data Center for Intrinsic Security [V3.2]
VMware vRealize Operations: Install, Configure, Manage [V8.6]
VMware App Volumes and Dynamic Environment Manager
VMware NSX-T Data Center: Design [V3.2]
Migration from VMware NSX for vSphere to NSX-T
VMware NSX-T Data Center: Troubleshooting and Operations [V3.2]
VMware vRealize Automation: Troubleshooting [V8.6]
VMware vRealize Automation: Orchestration and Extensibility [V8.6]
VMware vRealize Operations: Advanced Use Cases [v8.x]
VMware Tanzu Mission Control: Management and Operations 2022
VMware NSX-T Data Center: Install, Configure, Manage [V3.2]
VMware NSX-T Data Center: What's New [V3.2]
VMware vRealize Log Insight: Deploy and Manage [V8.4]
VMware Cloud Director: Install, Configure, Manage [V10.3]
VMware Cloud Foundation: Planning, Management, Operations [V4.3]
VMware vRealize Automation SaltStack Config: Deploy and Manage [V8.4]
VMware vSAN Fast Track [V7]
VMware Horizon 8: Troubleshooting Bootcamp
VMware vSAN: Plan and Deploy [V7].
VMware Horizon 8: Virtual Desktop Troubleshooting
VMware Data Center Virtualization: Core Technical Skills
VMware vRealize Operations: Day 2 Operations with Cloud [V8.2]
VMWare vRealize Operations: Install, Configure, Manage [v8.2] 1
VMware NSX-T Data Center for Intrinsic Security [V3.1]
VMWare vRealize Automation: Install, Configure, Manage [v8.3]
VMware Horizon 8: Infrastructure Troubleshooting
VMware Cloud Director: Install, Configure, Manage [V10.1]
VMware Horizon 8: Infrastructure Administration
VMware Horizon 8: Skills for Virtual Desktop Management
VMware vSphere: Optimize and Scale plus Troubleshooting Fast Track [V7]
VMware NSX-T Data Center: Migration from NSX Data Center for vSphere
VMware vSphere with Tanzu: Deploy and Manage [V7]
VMware vSphere: Advanced Administration Workshop [V7]
VMware vSAN: Management and Operations [V7]
VMware Cloud Foundation: Management and Operations [V4.0]
VMware Cloud Foundation: Plan and Deploy [V4.0]
VMware Horizon 8: Deploy and Manage
VMware vRealize Suite Lifecycle Manager: Install, Configure, Manage [V8]
VMware vRealize Automation: Orchestration and Extensibility [V8.1]
VMware vRealize Automation: Advanced Features and Troubleshooting [V8.x]
VMware vCloud Director: Tenant Operations [V10.x]
VMware NSX-T Data Center: Design [V3.0]
VMware NSX-T Data Center: Troubleshooting and Operations [V3.0] 0
VMware vSAN: Troubleshooting [V7]
VMware vSphere: Troubleshooting [V7]
VMware vSphere: Design [V7]
VMware vCloud Director: Install, Configure, Manage [V9.7]
VMware vSphere: Fast Track [V7]
VMware vSphere: Optimize and Scale [V7]
VMware vSphere: Install, Configure, Manage [V7]
VMware vSphere: What's New [V6.7 to V7]
VMware NSX-T Data Center: Install, Configure, Manage [V3.0]
VMware vRealize Network Insight: Install, Configure, Manage [V5.0]
VMware Horizon 7: Install, Configure, Manage [V7.10]
VMware vRealize Operations: Install, Configure, Manage [V8]
VMware vRealize Automation: Install, Configure, Manage [V8] 2
VMware NSX-T Data Center: Troubleshooting and Operations [V2.4]
VMware Horizon 7: Troubleshooting and Performance Optimization [V7.7]
VMware vRealize Operations and vSAN Integration Workshop
VMware Site Recovery Manager: Install, Configure, Manage [V8.2]
VMware vSphere: Advanced Troubleshooting Workshop [V6.7]
VMware vRealize Automation: Orchestration and Extensibility [V7.6]
VMware vRealize Automation: Install, Configure, Manage [V7.6]
VMware vSphere: Practitioner Workshop [V6.7]
VMware Advanced Skills for vSphere Professional Workshop [V6.7]
VMware NSX-T Data Center: Install, Configure, Manage [V2.4]
VMware Horizon 7: Install, Configure, Manage [V7.7]
VMware Horizon 7: Install, Configure, Manage plus App Vols FT [V7.7]
VMware vSAN: Production Operations [V6.7]
VMware App Volumes and User Environment Manager on Horizon
VMware vRealize Operations for Administrators [V7]
VMware NSX-T: Install, Configure, Manage [V2.2]
VMware vRealize Operations: Install, Configure, Manage [V7]
VMware vRealize Log Insight: Deploy and Manage [V4.7]
VMware vSAN: Deploy and Manage [V6.7] 04-Oct-2018
VMware vSphere: Skills for Public Sector Administrators [V6.7]
VMware vSphere: Fast Track [V6.7]
VMware vSphere: Skills for Operators [V6.7]
VMware vRealize Network Insight: Install, Configure, Manage [V3.x]
VMware vSphere: Optimize and Scale plus Troubleshooting Fast Track [V6.7]
VMware vSphere: Troubleshooting Workshop [V6.7]
VMware vSphere: Optimize and Scale [V6.7]
VMware vCloud Director: Install, Configure, Manage [V9.X]
VMware vRealize Automation: Orchestration and Extensibility [V7.x]
VMware vSphere: Install, Configure, Manage [V6.7]
VMware vSphere: What's New [V5.5 to V6.7]
VMware NSX-T: Install, Configure, Manage [V2.x]
VMware NSX: Install, Configure, Manage + Troubleshooting and Ops FT 6.4
VMware NSX: Troubleshooting and Operations [V6.4]
VMware NSX: Install, Configure, Manage [V6.4]