Woensdag, 4 mei 2016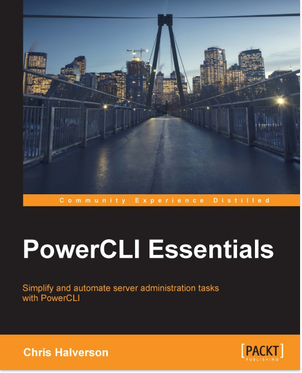 Have you ever wished you could automatically get a report with all the relevant information about your VMware environments in exactly the format you want? Or that you could automate a crucial task that needs to be performed on a regular basis?

Powerful Command Line Interface (PowerCLI) scripts do all these things and much more for VMware environments. PowerCLI is a command-line interface tool used to automate VMware vSphere environments.

It is used to handle complicated administration tasks through use of various cmdlets and scripts, which are designed to handle certain aspects of VSphere servers and to help you manage them.
This book will show you the intricacies of PowerCLI through real-life examples so that you can discover the art of PowerCLI scripting. At the start, you will be taught to download and install PowerCLI and will learn about the different versions of it.

Moving further, you will be introduced to the GUI of PowerCLI and will find out how to develop single line scripts to duplicate running tasks, produce simple reports, and simplify administration. Next, you will learn about the methods available to get information remotely.

Towards the end, you will be taught to set up orchestrator and build workflows in PowerShell with update manager and SRM scripts.
Download and install PowerCLI and its basics as well as the basics of PowerShell
Enchance your scritping experience
Build longer scripts and simpler reports
Relate a task in VMware administration to a PowerCLI script
Discover methods to acquire and change information remotely
Set up orchestrator to manage your workflow
Dinsdag, 3 mei 2016
Virtual SAN is a hypervisor-converged, software-defined storage solution for the software-defined data center. It is the first policy-driven storage product designed for VMware vSphere® environments that simplifies and streamlines storage provisioning and management.




Virtual SAN is a distributed, shared storage solution that enables the rapid provisioning of storage within VMware vCenter Server™ as part of virtual machine creation and deployment operations. Virtual SAN uses the concept of disk groups to pool together locally attached flash devices and magnetic disks as management constructs.
Disk groups are composed of at least cache device and several magnetic or flash capacity devices. In Hybrid architectures, flash devices are used as read cache and write buffer in front of the magnetic disks to optimize virtual machine and application performance. In all flash the
cache device endurance is leveraged to allow lower cost capacity devices.

The Virtual SAN datastore aggregates the disk groups across all hosts in the Virtual SAN cluster to form a single shared datastore for all hosts in the cluster. Virtual SAN requires correctly configured network for virtual machine I/O as well as communication among cluster nodes. Since the majority of virtual machine I/O travels the network due to the distributed storage architecture, highly performing and available network configuration is critical to a successful Virtual SAN deployment.

This paper gives a technology overview of Virtual SAN network requirements and provides Virtual SAN network design and configuration best practices for deploying a highly available and scalable Virtual SAN solution.