Maximum vSphere is the complete, up-to-the-minute working reference for everyone who plans, implements, or runs VMware virtual infrastructure. Authored by top VMware consultant Eric Siebert, the book brings together proven best practices, tips, and solutions for achieving outstanding performance and reliability in your production environment. This book brings together crucial knowledge you won't find anywhere else, including powerful new vSphere 4 techniques drawn from the experiences of dozens of advanced practitioners. You'll find sophisticated, expert coverage of virtual machines, ESX/ESXi hosts, vCenter Server, networking, storage, monitoring, troubleshooting, backups, vMotion, fault tolerance, vSphere management, installation, upgrades, security, third-party tools, and more. The author takes the same hands-on approach that made his VMware® VI3 Implementation and Administration so popular. Whether you're implementing or managing vSphere 4, upgrading from older virtualization technologies, or taking new responsibilities in any VMware environment, you'll find this book indispensable.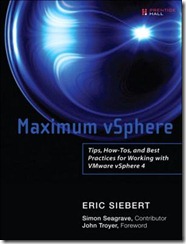 Chapter 1: Introduction to vSphere
Chapter 2: ESX & ESXI HOSTS
Chapter 3: Virtual Machines
Chapter 4: vCenter Server
Chapter 5: Storage in vSphere
Chapter 6: Networking in vSphere
Chapter 7: Performance in vSphere
Chapter 8: Backups in vSphere
Chapter 9: Advanced Features
Chapter 10: Management Of vSphere
Chapter 11: Installing vSphere
Chapter 12: Upgrading To vSphere
Chapter 13: Creating And Configuring Virtual Machines
Chapter 14: Building Your Own vSphere Lab

Other Book Details:

Paperback: 400 pages
Publisher: Prentice Hall; 1 edition (20 Aug 2010)
Language English

Simon Seagrave and Eric Siebert have confirmation that the book is released this morning. It will be available in both paperback and Kindle formats, an electronic version is also available on the Safari book website.
Simon has written the chapters on 'Performance in vSphere' and 'Building Your Own vSphere Lab' with Eric writing all the other chapters. The forword is by John Troyer.