The Synology DS1010+ runs on the renewned system firmware, Synology DSM 2.3 offering comprehensive applications and features designed specifically for SMBs. Comprehensive network protocol support assures seamless file sharing across Windows, Mac, and Linux platforms. Windows ADS integration allows the Synology DS1010+ to quickly and easily fit in an existing business network environment with no need to recreate users accounts on the Synology DS1010+. The User Home feature minimizes the administrator's effort in creating a private shared folder for a large amount of users. The sub-folder privilege settings further extend the flexibility to allocate permissions for different workgroups.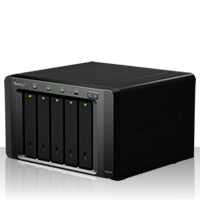 Using the NFS protocol or with iSCSI target support, within Synology DSM 2.3, the Synology DS1010+ is a storage asset when serving VMware.
•CPU Frequency: 1.67GHz, Dual Core
•Floating Point
•Memory Bus: 64bit@DDR800
•Memory: 1GB10
•Internal HDD1: 3.5" SATA(II) X5 or 2.5" SATA/SSD X5
•Max Internal Capacity: 10TB (5x 2TB hard drives)9
•Hot Swappable HDD
•Size (HxWxD): 157mm X 248mm X 233mm
•External HDD Interface: USB 2.0 port X4, eSATA port X1
•Weight: 4.25kg
•LAN: Gigabit X2
•Wireless Support11
"We are pleased that the Synology DS1010+ qualifies for the VMware Ready™ logo, signifying to customers that it has passed specific VMware testing and interoperability criteria and is ready to run their mission-critical business applications and operations," said Bernie Mills, senior director, alliance programs, VMware.