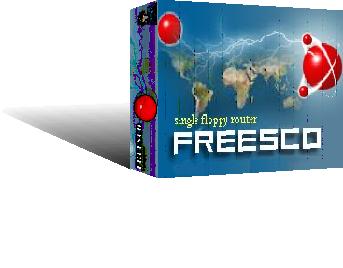 Last January the cool people over at FREESCO have released a new version of their highly popular router floppy. This new version (0.4.3) contains some bug fixes and lots of new features. FREESCO was developed in the open source tradition as an alternative to routing products offered by Cisco, 3-Com, Accend, Nortel etc. While all of these companies offer products that are well made, the overhead and overall costs can be expensive. FREESCO is open source, stable, inexpensive, easy to use, extremely versatile and flexible ... and best of all, FREESCO is FREE. FREESCO is based on the Linux operating system. And incorporates many of the features of other Linux distributions into software that fits onto a single 1.44 meg floppy diskette. With FREESCO, you can configure:
• a simple bridge with up to 10 Ethernet segments
• a router with up to 10 Ethernet segments
• a dialup line router
• a leased line router
• an Ethernet router
• a dial-in server with up to 10 modems.
• a time server
• a dhcp server
• a http server
• a ftp server
• a dns server
• a ssh server
•

a print server (requires TCP/IP printing client software)
FREESCO also incorporates firewalling and NAT, which are resident within the Linux kernel, to help protect you and your network. All of these features can be used in conjunction with each other or individually.
FREESCO has an official ext2 package that can be installed directly from the floppy package menu. This is the best and most reliable way to install FREESCO onto a hard drive. The ext2 package does not require any pre-preparation of a hard drive. The ext2 package also is capable of scanning the drive for errors during boot-up to prevent any type of file corruption. Using the ext2 package avoids any hassles associated with needing a DOS/Win9x bootable hard drive or any extra file and disk management tools and using ext2 is the recommended file system.

I've installed FREESCO inside a VMware virtual machine on a virtual disk (VMDK) formated as EXT2 and created an OVF and OVA file from it. This way you're able to setup a virtual router within you vSphere environment very easily.
Virtual Disk: 256 MB Thin
Memory: 256 MB
Network Adaptor 1: DHCP Client on VM Network
Network Adaptor 2: DHCP Server on Internal - 192.168.1.1
Management GUI: http://192.168.1.1:82
Username: Admin Password: vmware
Shell login: Root/vmware
Available for Download at http://www.screencast.com/users/esloof/folders/FREESCO/