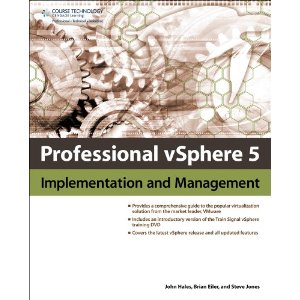 This new book
will be released at January 11th 2012 and focuses on planning, installing, and maintaining vSphere environments. It is not a verbose documentation-style tome, but rather a comprehensive guide based on the tips, tricks, and gotchas gleaned from the authors' years of experience as vSphere consultants and trainers.
The book is separated into four discrete sections: planning, implementation, troubleshooting, and security. The structure of the book provides readers with a balanced, deep understanding of vSphere. The authors have incorporated nearly two decades of consulting and training experience in the pages of this book. Real-world experience has been leveraged to help readers avoid the pitfalls that the authors have learned the hard way.
Written by trainers, this book presents the material utilizing a practical teaching style. This experience will benefit both the new and veteran administrator alike. While this book does cover the new features found in vSphere 5, it doesn't assume that the reader has extensive experience with the previous versions of vSphere.
ADMINISTERING VSPHERE 5: PLANNING, IMPLEMENTING AND TROUBLESHOOTING
provides newcomers with a solid foundation in vSphere, while also filling in the gaps for more experienced readers.