VMware Mirage conceptually splits the PC into layers, combining a centrally managed Base Image (OS and core applications) with two layers from the endpoint: user-installed applications and machine state, and end user data and settings. These three components form an individually managed, centrally-stored Centralized Virtual Desktop (CVD). CVDs are hardware-agnostic, and can be easily migrated from one desktop (physical or virtual) to another, creating a wide range of use cases. The VMware Mirage Client runs a local cache of this CVD directly on the endpoint (virtual or physical) hardware, using local compute resources to enable offline productivity and ensure predictable, native PC performance regardless of network connectivity.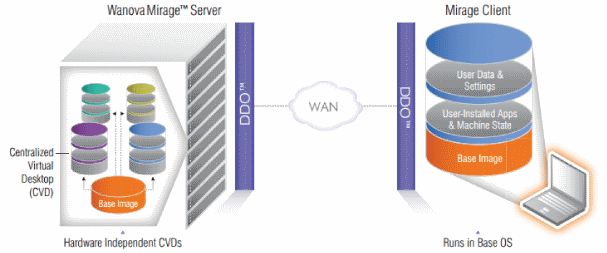 VMware Mirage's Distributed Desktop Virtualization architecture includes VMware Mirage Server in the data center to centralize desktop management, protection, and support; Mirage Client to create a local cache for optimal user experience at the endpoint, and advanced DDO technology to optimize bi-directional synchronization and fast desktop streaming over the WAN.

More videos:

In-Place Windows XP to Windows 7 Migration using VMware Mirage - Watch a Windows XP endpoint get upgraded in-place to Windows 7 with zero touch by IT, and without affecting user files or profiles, by using the VMware Mirage solution.

Single Image Management with VMware Mirage - See how VMware Mirage can solve your singe image management needs for physical laptops and desktops, and un-managed virtual machines.