The Ruby vSphere Console (RVC) is an interactive command-line console user
interface for VMware vSphere and Virtual Center. The Ruby vSphere Console is
based on the popular RbVmomi Ruby interface to the vSphere API has been an open
source project for the past 2-3 years.

RbVmomi was created with the goal to
dramatically decrease the amount of coding required to perform routine tasks, as
well as increase the efficiency of task execution, all while still allowing for the full
power of the API when needed.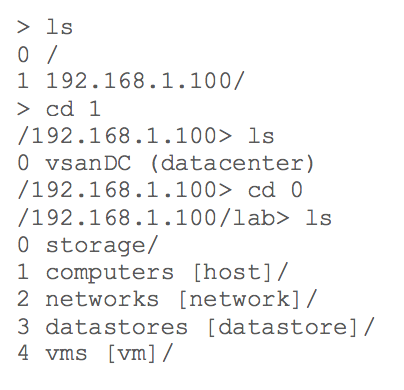 The Ruby vSphere Console comes bundled with both the vCenter Server Appliance (VCSA) and the Windows version of vCenter Server. RVC is quickly becoming one of the primary tools for managing and troubleshooting Virtual SAN environments.

This white paper is intended for vSphere architects, administrators, developers and any others who are interested in deploying, managing or maintaining a Virtual SAN infrastructure. To glean the most out of this document, it will help to be familiar with vSphere infrastructure, Virtual SAN hardware as well as VM provisioning workflows.