VMware vRealize Automation - Handbook The complete guide to vRealize Automation and how to build your own private cloud. The book helps customers to implement a private cloud solution based on VMware's vRealize automation. After an introduction and discussion of basic cloud concepts, vRealize Automation will be introduced.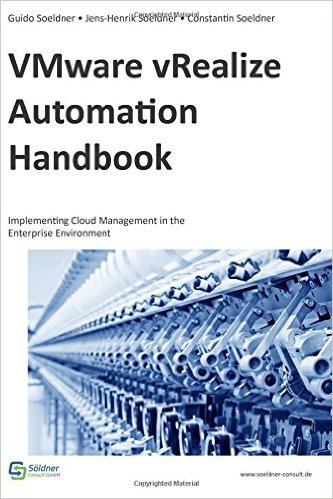 The book discusses the conceptual design as well as how to implement vRealize Automation. The book will give step-by-step instructions how to configure vRealize Automation. Furthermore, tips from real projects will be given. The book acts as a reference as well as cookbook for customers.

With the cloud becoming more and more important, many companies still try to find a strategy to implement their own private cloud. VMware helps companies with vRealize Automation - one of the most important products within VMware Software Defined Datacenter (SDDC) strategy.

This book is a complete guide to vRealize Automation and will cover all aspects when implementing a vRealize Automation solution – from design, to installation, configuration and extensibility. This book is designed to help the reader to gain all necessary vRealize skills and see use cases on real-life projects.