Introduction to vRealize Network Insight

In this lab students will be presented with an overview and demonstration using vRealize Network Insight. This lab will focus on three particular capabilities and 2 use case scenarios.

The first module introduces Micro-segmentation and the security within networks, followed by module two that will provide a detailed Map walk through of a Real Time flow rendering a 360 degree view for cross platform under and overlays.

Module number three will focus on NSX Manager and provide an easy in-depth look at how we manage advanced NSX operations within vRealize Network Insight.
Enrol in HOL-1729-SDC-1

What's New with vSphere 6.5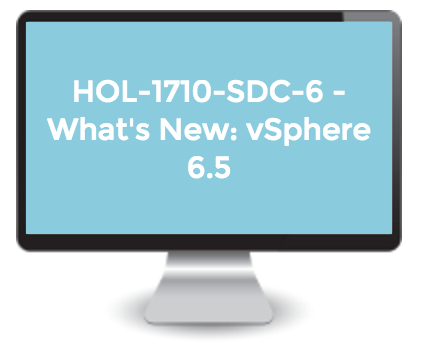 In this lab, you will explore some of the new feature of vSphere 6.5 including encrypted VMs, HTML5 Host Client and the vCenter Server appliance. You can alos take a look at the following new features:
Scale Enhancements – New configuration maximums to support even the largest app environments
VMware vCenter Server Appliance – The single control center and core building block for vSphere
vCenter Server High Availability – Native vCenter Server high availability solution
vCenter Server Backup and Restore – Native vCenter Server Backup and Restore
vCenter Server Appliance Tool – Single step migration and upgrade of existing vCenter Server to vCenter Server Appliance
REST APIs – Simple, modern developer-friendly APIs
vSphere Client – HTML5-based GUI that ensures fast performance and cross-platform compatibility
Security-at-Scale – Policy-driven security that makes securing infrastructure operationally simple
Encryption – VM-level encryption protects unauthorized data access both at-rest and in-motion
Audit-quality logging – Enhanced logging that provides forensic information about user actions
Secure Boot – Protection for both the hypervisor and guest operating system by ensuring images have not been tampered with and preventing loading of unauthorized components
vSphere Integrated Containers – Virtual infrastructure platform for containers
Proactive HA – High availability capability that utilizes server health information and migrates VMs from degraded hosts before problem occurs
Cross-Cloud vMotion – Live migrate workloads between VMware based clouds
Virtual Volume Replication – Native array virtual volumes replication