John Troyer recently has posted a new article on his weblog "VMware connected". It's about the new virtualization section on reddit, a source for what's new and popular on the web -- personalized for you. Reddit wants to democratize the traditional model by giving editorial control to the people who use the site, not those who run it. Your votes train a filter, so let reddit know what you liked and disliked, because you'll begin to be recommended links filtered to your tastes. All of the content on reddit is from users who are rewarded for good submissions (and punished for bad ones) by their peers; you decide what appears on your front page and which submissions rise to fame or fall into obscurity. John Troyer will try to keep dropping links, but feel free to submit your own links -- good articles, articles from your blog, etc. Obviously, since John works for VMware, his links will be VMware-centric, but he's interested in any virtualization, so feel free to contribute.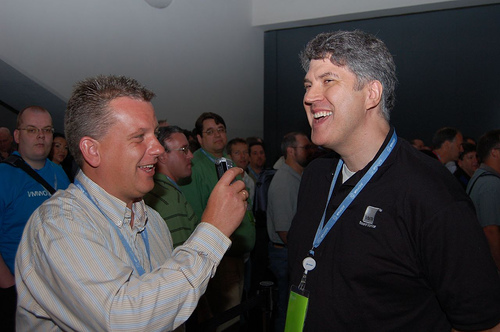 Eric Sloof is conducting an interview with John Troyer at the VMworld 2007,
The photo is taken by Viktor van den berg.