Draw your virtualization challenge or help the community define virtualization. Create your own diagrams to illustrate your point with the WHITEBOARD by GRAFFITI.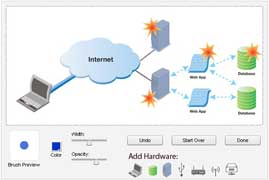 VirtualizationConversation.com is a website owned and operated by IBM and Intel. The following bloggers post their virtualization stories on a regular basis: Dave Altavilla, Johan De Gelas, Matthew Shaw, Steve Kovsky and the The Insight Community.
The Insight Community engages communities of experts within a proven framework to generate the best insightful analysis about business, government policy, and technology issues. Floor64, the company behind both the Insight Community and the analysis blog, Techdirt, has been providing insights to companies for nearly a decade. Through its sites, Insight Community cases can tap into a network of over 800,000 subscribers.