StarWind Software announced a free version of its iSCSI Target software will be available to help companies of all sizes experience the benefits of storage virtualization. Since 2003, StarWind iSCSI Target and StarPort iSCSI Initiator have been used by thousands of companies and users.
StarWind ISCSI Target Free Version installs on any Windows-based server and converts it into a SAN. It can also support virtual environments such as VMware ESX or VMware ESXi or Microsoft Hyper-V and can even run inside an individual VM itself. The lightweight version is built on trusted, proven and mature technology of the fourth generation StarWind Server product. One of the key features of the StarWind iSCSI Target is that it supports Server Cluster environments with Microsoft SQL Server, Microsoft Exchange, VMware ESX and ESXi, Microsoft Hyper-V and other server solutions. The manageability, quality and performance of StarWind IP SAN encourage many users to recommend StarWind to others.
Key Features of StarWind Free Version include: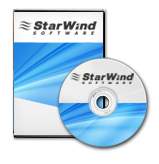 • Support for Server Clusters with VMware ESX and ESXi and Microsoft Hyper-V
• Unlimited number of supported concurrent iSCSI connections
• Compression, Encryption and CHAP authentication
• iSCSI RAM disk for network performance tuning
• iSCSI CD/DVD/Blu-Ray/HD-DVD emulation
• Ease of use and simple manageability
• Support for 4 CPUs and CPU cores
The Free Version of StarWind iSCSI Target takes only a few minutes to download and install and is very simple to configure with Windows Server Clusters.